Agro Marialinda is a business that exports guatemalan Croton shrubs. Colorful and extremely adaptable to exterior gardening, Croton have colors ranging from yellow to green and orange to bright red – it's colors increase their intensity with optimum lightning. Agro Marialinda exports Croton in tip cuttings, stranded, grounded and in shaped layers.
The project included logo development and a site that would fit their needs: an online visual catalog of their products, a look to their nursery and location, as well as a friendly contact form for interested clients.
For the Logo, we wanted a logo that would not work for online viewing but also would translate well to printing for both business cards to shipping boxes.

After careful study of their product portfolio, we decided to do a vector close-up of the Croton shrubs – that same logo detail would be used as the site's icon.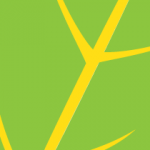 For the site, giving the changing times and different devices used to visit websites, we decided that we would work with a WordPress installation that would be responsive. After deciding on the Avada Theme at ThemeForest, we worked together to work through the details of the site to match their needs, including the online catalog.
The site will also feature a sister spanish version, which we will launch soon!